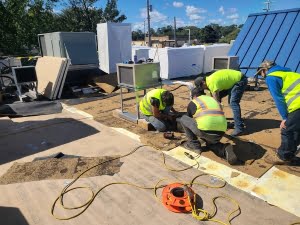 When it comes to commercial buildings, the roof plays a crucial role in providing strength and durability. As a business owner in St. Joseph, MO, you understand the importance of maintaining a secure and reliable roof. That's where DRC Commercial Roofing comes in. With our expertise and commitment to quality, we offer a wide range of roofing solutions, including flat roof replacement. Let's delve into the benefits of flat roof replacement for commercial buildings, exploring how it can enhance the strength and sustainability of your property. For expert help, just call our team at (816) 514-1617 to get started from today!
Flat Roof Replacement Benefits
Enhanced Durability and Weather Resistance: A commercial flat roof replacement is a smart investment for commercial buildings no matter which industry, as it offers enhanced durability and weather resistance. The DRC Commercial Roofing team understands the unique challenges that commercial roofs face, from extreme weather conditions to constant exposure to the environmental contaminants. By opting for a flat roof replacement, you can ensure that your commercial building is equipped with a robust and weather-resistant roofing system that can withstand the test of time.
Energy Efficiency and Cost Savings: Did you know that flat roof replacement can contribute to improved energy efficiency? With rising energy costs, running a business is tough and thus it's essential to have an energy-efficient roofing system in place. Our experts at DRC Commercial Roofing can install high-quality flat roofs that incorporate energy-saving features, such as reflective coatings and increased insulation. These features help regulate indoor temperature, reduce the workload on your HVAC systems, and ultimately lead to significant cost savings on energy bills.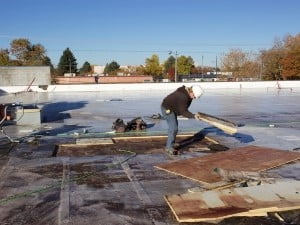 Customization and Design Flexibility: One of the key advantages of flat roof replacement is the opportunity for customization and design flexibility. This breathes a new life to your building and its overall look and feel. At DRC Commercial Roofing, we understand that commercial buildings come in various shapes and sizes, each with its unique architectural style. Our team works closely with you to assess your specific needs and preferences, offering a range of flat roof options that can be tailored to match the aesthetics of your building. Whether you prefer a traditional built-up roof or a modern single-ply membrane system, we have the expertise to bring your vision to life.
Roof Replacement Professionals
Investing in a flat roof replacement for your commercial building is a decision that offers long-term benefits. With enhanced durability, weather resistance, energy efficiency, and design flexibility, it's a step toward strengthening the overall structure and sustainability of your property. When you choose DRC Commercial Roofing to replace your commercial roof in St. Joseph, MO, you can trust that our team of the professionals will deliver exceptional craftsmanship and reliable service. Contact us today at (816) 514-1617 to discuss your flat roof replacement needs and unlock the full potential of your commercial building.