Maintaining your commercial roof is crucial to protecting your investment and extending the lifespan of your building. The weather can be unpredictable, but applying a roof coating could be a sustainable and affordable solution. The roof coating contractors at DRC Commercial Roofing in Smithville, MO, specialize in providing top-tier roof coating services. Call us today at 816-514-1617 to schedule your appointment!
Benefits of Roof Coatings
Improved Weather Resistance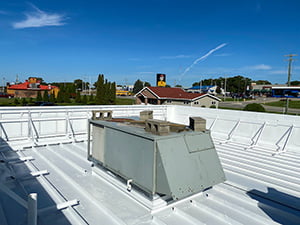 Harsh weather in our region can be common, from scorching heat to heavy rainfall. These factors can lead to wear and tear in your roofing materials. Therefore, a roof coating could be the perfect solution, as it protects against moisture, UV rays, and temperature fluctuations. This shields your roof against premature degradation, extending its lifespan.
Enhanced Waterproofing
Cracks and joints in your roof's structure can lead to water infiltration, leaks, mold growth, and potential interior damage. Commercial roof coatings provide a seamless and waterproof membrane over the existing roof structure, preventing water infiltration and moisture from entering through the cracks.
Reflective Properties
Direct sunlight can cause thermal stress on roofing materials, eventually leading to deterioration. However, roof coatings are designed to reflect most of this sunlight. This reflective quality prevents your roof from absorbing as much heat. In addition, you'll be able to enjoy lower utility bills and more comfortable temperatures inside your building.
Cost-Effectiveness
A full roof replacement is costly, time-consuming, and labor-intensive. However, applying a coating can be much more affordable, eliminating the need to remove your existing roof and dispose of the materials.
Our Role
Commercial roofing contractors have the necessary expertise to ensure the longevity, reliability, and security of your roof. They offer a wide range of services, including commercial roof inspection services, leak detection services, repairs, replacement, coatings, and restorations. Their experience and skills are invaluable to ensure your roof can withstand the elements.
Our Process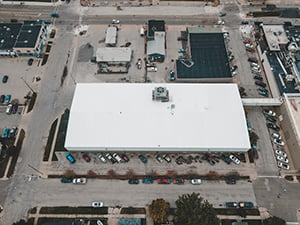 Our team of commercial roof coating contractors provides a variety of services to address your unique challenges:
Initial Inspection
The entire process begins with an inspection. We will first conduct a roof inspection to analyze and identify damage, leaks, cracks, or any other structural issues that must be addressed. The assessment is vital to select the appropriate roof coating. It also helps determine whether your roof needs any repairs before applying the coating.
Repairs
If the inspection reveals any issues with the roof, such as leaks, structural damage, or shingle damage, then our contractors will perform the necessary repairs. This ensures that your roof is in good condition before we apply the coating.
Preparation
Before applying the coating, we will thoroughly clean the surface of your roof. This involves removing dirt, debris, and other contaminants that could hinder the application and adhesion of the coating. A clean surface allows for a seamless and watertight barrier.
Application
Our team uses specialized techniques and materials to apply the coating across the roof surface. The type of roof and climate conditions will influence the type of coating that we choose.
Restoration
This process involves cleaning, repairing, and restoring the roof's surface to improve its appearance and enhance its condition. It is a cost-effective alternative to a roof replacement that could add several years to its lifespan.
Maintenance
Regular roof maintenance is vital to extend the lifespan of your roof. We offer maintenance services tailored to your specific needs.
Inspections
Regular inspections are also crucial, as they form part of any maintenance program. These services help your contractor understand your roof's condition in real time and quickly identify any issues that may appear.
Call Us Today
The team at DRC Commercial Roofing in Smithville, MO, is a leading roofing contractor in the area. We are dedicated to providing top-notch services by using the latest techniques and materials. This guarantees the safety, reliability, and longevity of your roof. Call us today at 816-514-1617 to schedule your consultation!