One of the most crucial aspects of caring for your property is maintaining your roof. Fluctuating temperatures, severe weather conditions, and other external factors can significantly affect your roof's lifespan. However, a commercial roof coating could be the right way to address these challenges and protect your roof. The team at DRC Commercial Roofing is a highly regarded commercial roofing contractor in Smithville, MO. If you're looking for exceptional services, call us today at 816-514-1617!
Understanding Commercial Roof Coating Systems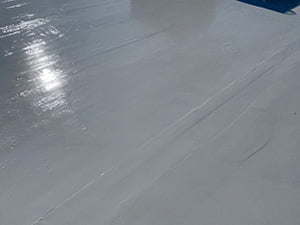 Weather conditions in our area can often be unpredictable. Therefore, applying a coating on your roof could be a wise idea. A coating is a highly effective solution that can enhance the sustainability and durability of your roof. Coatings act as a protective barrier against the harsh elements that your roof faces every day. Your roof will be shielded against heavy rain, UV rays, and extreme temperatures.
Before we apply the coating, our team will first perform a commercial roof inspection. We will then prepare the surface to ensure the coating adheres correctly.
Benefits of Commercial Roof Coating Systems
Ensuring the reliability and longevity of your commercial roof is paramount as a building owner. After all, this means that your property is secure and those inside are safe. Applying a roof coating offers a wide range of benefits.
Extended Roof Lifespan
One of the key advantages of a coating is its impressive ability to extend the lifespan of your existing commercial roof. Maintenance costs can be expensive, so applying a coating can help you save a significant amount of money over time. Commercial roof coatings help you reduce maintenance costs by shielding your roof from sun exposure and moisture. Coatings also protect your roof against other harsh environmental conditions that can lead to premature aging and degradation. With a roof coating, your building will reflect the sun's rays, preventing excessive heat absorption and maintaining the integrity of the roofing materials.
Waterproofing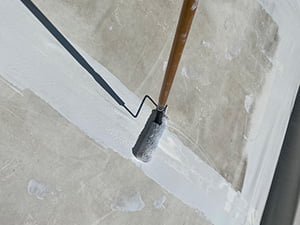 Another crucial benefit of coatings is that they provide a seamless and waterproof membrane. A seamless membrane ensures a continuous shield that eliminates weak points for water to penetrate. Sudden temperature fluctuations can also add stress to your roofing materials. However, the waterproofing nature of coatings can help. They are a reliable defense, preventing moisture and rainwater from entering your building.
Energy Efficiency
Coatings can help you conserve energy, which can be crucial to reduce costs. Roof coatings are designed to reflect the sun's rays. This remarkable ability lowers temperatures inside your building and reduces your cooling costs. Through minimizing heat absorption, a coating can make your building more energy-efficient.
Cost-Effectiveness
A coating is a cost-effective solution, allowing building owners to protect their property affordably. A roof coating eliminates the need for a complete replacement. A replacement entails removing the existing roof, which is expensive, time-consuming, and labor-intensive. Choosing to apply a coating helps you avoid this expense.
Minimum Disruption
A roof replacement project can seriously disrupt your normal operations. However, applying a roof coating creates minimal disruptions and allows you to continue with your normal routine. The application process is efficient and simple. Once we have completed our commercial roof inspection, we will prepare the surface and apply the coating.
Sustainability
A coating is an environmentally friendly solution to your roofing problems. Coatings are made of eco-friendly materials. When you choose to extend the lifespan of your existing roof instead of replacing it, you will have a positive impact on the environment, as there will be fewer resources used.
Call Us Today
The team at DRC Commercial Roofing in Smithville, MO, is unwavering in its commitment to ensuring top-tier services. Thanks to our premium materials and expertise, we can ensure your roofing system's longevity, security, and effectiveness. Call us today at 816-514-1617 to learn more!