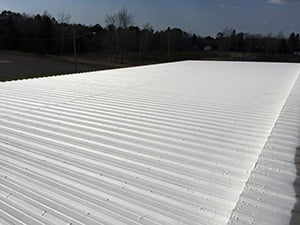 Here at DRC Commercial Roofing in Smithville, MO, we recognize that every commercial building is unique. Among the many roofing types we work with, metal roofing is known for its durability and endurance. However, even metal roofs will sustain damage. Therefore, choosing a metal roof restoration service could be right for you. To get started, contact our experts today at 816-514-1617! We would be excited to serve you.
Need for Restoration
Metal roofs are valued for their strength and longevity, often outlasting other roofing materials. However, just like any other material, metal roofs are susceptible to damage from severe weather and natural wear and tear. Recognizing the signs of aging, such as rust spots, leaks, and fading, is the first step in the restoration journey.
Choosing the Right Solution
Once you've recognized the need, the next step is selecting the ideal restoration solution. With advancements in roofing technology, there are numerous services available to restore your metal roof without replacing it. From protective coatings that combat rust to reflective paint that increases energy efficiency, there are many options to choose from.
Restoration Process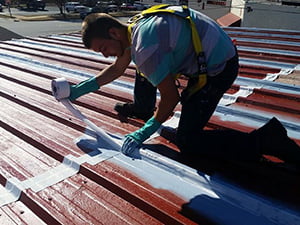 The actual restoration process involves a series of carefully executed steps. To begin with, our team will thoroughly clean your roof, removing all debris and rust. We will then apply a specialized primer, which not only offers additional protection against rust but also provides a smooth base for the final coating. The chosen protective layer is then applied, restoring your roof's luster and ensuring it will stand the test of time.
Benefits
Restoring a metal roof can do more than just improve its appearance. A restoration enhances your roof's ability to reflect UV rays, thereby reducing cooling costs in the summer. It also seals leaks and potential weak spots, ensuring watertight protection against the elements. In essence, a restoration can provide many of the same benefits as a replacement, but at a fraction of the cost.
Our team stands as a testament to quality and craftsmanship in the world of commercial roofing. We've witnessed firsthand the transformative power of our restoration services, and we take pride in continuing to help building owners in the region.
Contact Us
If your metal roof is showing signs of aging or if you're just curious about the restoration process, the team at DRC Commercial Roofing in Smithville, MO, is here to help. Call us today at 816-514-1617 to get started!