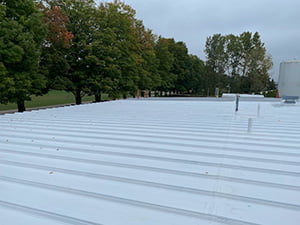 The team at DRC Commercial Roofing offers a wide range of services for building owners in St. Joseph, MO. If your roof has sustained damage or is beginning to age, but you are looking to avoid a replacement, then applying a commercial roof coating could be the right option for you. Thankfully, our team is here to help. To get started, or to learn more, call us today at 816-514-1617!
Request An Estimate
Sometimes, building owners may worry about the price of roofing services. However, if you are looking for high-quality services at fair prices, you can count on our honest professionals. We will provide a detailed estimate so you can make an informed decision. We offer a wide range of solutions, ensuring that your roof receives the care it deserves at affordable prices.
Our Services
Roof Restoration
When you hire us to restore your roof, you will save both money and time in the future. Thanks to our high-quality coatings, we will restore your building to excellent condition and help you avoid the need for a complete roof replacement. In addition, we will ensure your roof remains in optimal condition for years to come. Finally, roof coatings are highly reflective, which can help significantly lower your utility costs.
Single-Ply Roofing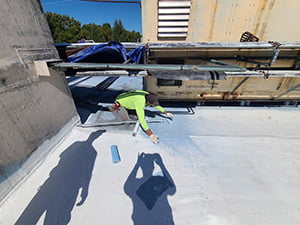 Many commercial buildings use single-ply roofing systems. Since our specialists have many years of experience with single-ply roofing systems, you can be sure that we will provide the exact services your roof needs. Our single-ply roofing services include repairing seams, patching up cracks or holes in the membrane, and roof restoration services!
Other Services
A restoration can be a great solution for many roof systems. However, a coating is not always the best course of action for every situation. Thankfully, our team has the experience and knowledge to determine the best steps to take. We will work closely with you, taking into account your budget, needs, and local weather.
In addition to coatings, we also offer repairs, replacements, and inspections. Whatever you need, we can help! Our experienced team is qualified to complete all types of commercial roofing projects.
Call Us Today
If you think your roof could benefit from a coating, look no further than the experts at DRC Commercial Roofing in St. Joseph, MO! Our experienced team consistently applies high-quality coatings that improve the condition of commercial roof systems. For more details, contact us today at 816-514-1617!