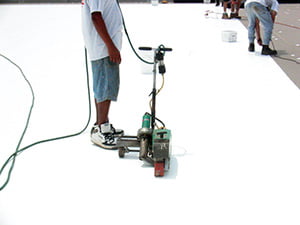 TPO single-ply roofing has rapidly gained popularity among commercial building owners all across the nation. This material offers high durability as well as resistance to corrosive substances and chemicals, and it even has the potential to reduce your utility costs. If your building is in St. Joseph, MO, the team at DRC Commercial Roofing is here to help. We offer top-notch TPO roofing system services! To learn more, call us today at 816-514-1617.
Advantages
TPO roofing offers many advantages for property owners:
Energy Efficiency: TPO roofing is designed to reflect sunlight and prevent heat absorption, which can help reduce utility costs and improve energy efficiency.
Durability: This material is resistant to punctures and tears, which means it can withstand extreme weather conditions, including high winds, hail, and heavy rain.
Cost: TPO roofing is a cost-effective option compared to other common roofing systems. It is easier as well as quicker to install than other roofing types, which will help reduce overall costs.
Minimal Maintenance: This material requires minimal maintenance, helping lower long-term expenses. TPO roofing is also resistant to mold and algae, meaning it does not require frequent cleaning.
Sustainability: This roofing material is recyclable and can be repurposed at the end of its lifespan, making it an environmentally-friendly option.
Flexibility: TPO roofing is flexible and can easily conform to your roof's shape, making it an ideal choice for irregularly shaped roofs.
Our Services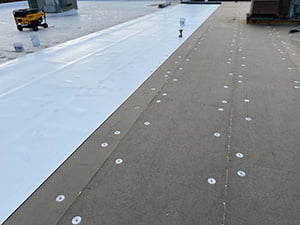 We offer a wide range of roofing services. You can rely on us for everything you need, from simple repairs to a complete installation. We will be glad to provide an estimate for any roofing project you are considering. Our team consistently delivers flawless results for our clients. See for yourself why so many commercial building owners across the state choose us!
Why Choose Us
There may be many contractors to choose from for your next project, but our team stands out. We offer competitive pricing, unmatched quality, as well as friendly customer service. We have an impressive track record of accomplishments!
If you want to partner with a team that is honest, reliable, and skilled, we are your top option.
Call Us Now
If your building is in St. Joseph, MO, then the team at DRC Commercial Roofing is the ideal option for your TPO single-ply roofing needs. We are eager to help you! Call us today at 816-514-1617, and discover for yourself why so many in the state choose us.